DEADLINE POSTPONED for the thematic issue no. 2/2021
POLITICAL SYSTEM: A MOTOR OR A BRAKE IN CLIMATE CHANGE MITIGATION?
Dear author(s),
You are invited to submit a paper for possible inclusion in a thematic issue "Political system: a motor or a brake in climate change mitigation?" no. 2/2021 of the Studia Politica Slovaca Journal. The journal welcomes research articles, discussions and book reviews in keeping with the editorial policy of the SPS.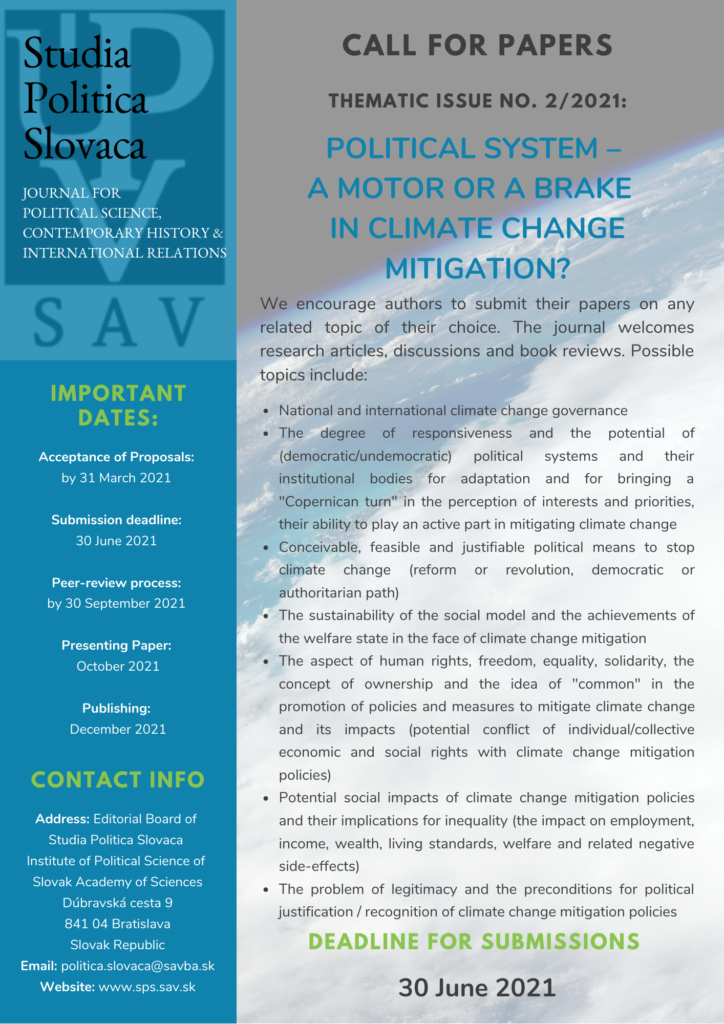 Please find more details about the topic description, scope, planned schedule and other information in the Call description file here:
The deadline for proposal and abstract submission is 31 March 2021 and for paper submission – 30 June 2021. The issue is scheduled for December 2021.

In addition, the authors of accepted papers will be invited to present their papers at the virtual workshop organized by the Institute of Political Science in autumn 2021 (probably in October, exact date to be defined). Participation in the workshop and publication in the journal is free of charge.
The Editorial Board looks forward to receiving your proposals in response to the call, and is happy to answer your questions, which may be sent to politica.slovaca@savba.sk.